Welcome to Our ASVAB Tutors! Find an ASVAB Tutor Near You Today~
Trying to prep for the ASVAB exam and looking to get a tutor for ASVAB?  A private ASVAB tutor can help make the difference.  Our private tutors specialize in the ASVAB and can help you understand what you need to know to get the score you deserve on this exam. 
Matthew K.
ASVAB tutoring. Better military job results!!
Millersville, MD
view tutor
I have been in the military for 21 years and currently a Federal Agent in the D.C. area. I was a technical school instructor for 5 years during my military career and developed curriculum for three courses. I have been a part of Joint Operations and have worked very closely with each of the military branches. I enjoy seeing others succeed and I am proud to be a part of shaping tomorrow's military. If you are considering a military career this tutoring will assist you in obtaining the j...
5 stars
(1 ratings)
Joseph F.
To utilize my learning, experience, as well as established people
Trinidad, CO
view tutor
Let me give you a bit of info about my background. I am a native of Trinidad, Colorado where I graduated high school from THS in 1990. I then served my country in the U.S. Army from 1990 to 1992. Since then I have worked In advertising and print publishing industries all along the front range. I have an abundance of IT, networking, account management, graphics design, computer illustration and document engineering experience. I have created a vast array of artwork for print and web/screen pro...
0 stars
(0 ratings)
Brad L.
20-Year Tutoring, Test Prep, and Admissions Consulting Veteran
Honolulu, HI
view tutor
Hello, I'm Brad! My motto is Labor Omnia Vincit (Latin for "Work Conquers All"). It mirrors my belief that any goal can be accomplished via guided effort. I am passionate about instilling the knowledge, skills, and confidence that students need to achieve their dreams. I have scored in the 99th percentile (top 1%) of every standardized test I have taken, including IQ, GMAT, GRE, SAT, ACT, etc. I was a Gates Millennium Scholar and St. Petersburg Times Scholar at Duke University, where I...
0 stars
(0 ratings)
Bobbie M.
GW Grad Student Tutoring in Languages, Math, & Sciences
Lorton, VA
view tutor
My education: I have an AA in Arabic and received my BA in global studies in 2009. I am currently a graduate student at George Washington University studying international affairs, specializing in conflict resolution in the Middle East. I hope to eventually secure a position with the state department along the lines of international negotiation. Languages I am an Army linguist and graduated from the Modern Standard Arabic (MSA) Course at the Defense Language Institute in Monterey, California...
4.74 stars
(61 ratings)
Jessica G.
Individual Enrichment through an Experienced Tutor
Trenton, MI
view tutor
With background in a variety of areas, I can teach English, Social Studies, Biology, Behavioral Science, and just about anything else. I specialize in the instruction of English as a Second Language. I am multilingual and know Spanish and French. In addition, I have studied and lived abroad in the UK, on the Mexican border, and in South Korea. I am fluent and knowledgeable about various dialects and structures of the English language. I have served as a professional teacher for about a de...
4.98 stars
(65 ratings)
Kevin M.
Certified Mathematics Teacher/Tutor
Broomfield, CO
view tutor
I am a certified mathematics teacher in both Colorado and NJ with several years of classroom and tutoring experience. Prior to teaching, my professional background was in finance, banking, and information technology. From a teaching and tutoring standpoint, I am always patient and encouraging. In addition, I try to foster a learning environment that motivates and builds success. I take pleasure in showing students that with appropriate instruction and a little hard work they are capab...
4.93 stars
(384 ratings)
Evan P.
Bishop's Teacher & Tutor
San Diego, CA
view tutor
My name is Evan. I am 26 years old and I am currently a full-time teacher. I graduated from the University of Colorado at Boulder in 2013 with a B.S. in Chemical Engineering and a minor Physics. I have been helping students do better in their coursework for as long as I can remember. I have tutored my classmates and anyone who came to me for help since I began high school. I actually started out by tutoring my younger brother in many of his math and science courses. I have always excelled ...
4.78 stars
(90 ratings)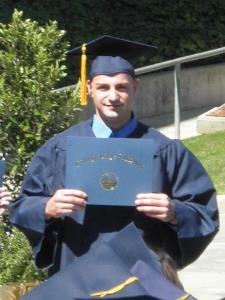 Ryan A.
Experienced Math Tutor with A.S. Applied Math/ B.A. Pure Mathematics
Stevenson Ranch, CA
view tutor
Hi everyone, I just graduated from University of California Santa Cruz with a B.A. in Pure Mathematics! I also achieved an A.S.- T in Applied Mathematics from my former junior college 2015. To add, I am also the former president and founder of my college Mathematics Club. I have 9 years of tutoring experience. Some new news: I'll be studying AP Calculus rigorously until mastered for any of you who need it. Some more about my tutoring style: I have passion for math and tutoring, and I help...
5 stars
(192 ratings)
Michael C.
Conquer your course now!
Gainesville, FL
view tutor
I am a University of Florida alumni looking to help you or your child excel in his or her classes. Over the past couple of years, I have taken Algebra I/II, Geometry, Pre-Calculus, and AP Calculus AB and BC. I have obtained a Bachelor's in Math at UF and can tutor up to the collegiate level. In addition to math, I tutor other subjects as well. I have more than 100 hours of tutoring documented on Wyzant, combined with years of private tutoring experience. I have received the highest scores o...
4.93 stars
(127 ratings)
Tevenia R.
Energetic STEM and Spanish Tutor
Virginia Beach, VA
view tutor
Hi!! My name is Tevenia. I have always had a knack for math ever since I was a child, despite what my course of study may suggest. In high school I was always in accelerated math classes and I was a member of Mu Alpha Theta Math Honor Society. I spent my free period during junior and senior year, tutoring fifth graders in math at John B. Dey Elementary School, and after school I tutoring AVID students at Great Neck Middle School. It is my dream to make STEM education less daunting and more fu...
4.72 stars
(32 ratings)
More Tutors
How an ASVAB Tutor Can Help:
If you are starting an ASVAB study program, you need to know what you are expected to understand.  You also want to make sure that you get assistance from a tutor to review your ASVAB practice tests that you take as you prep for the exam.
The ASVAB currently contains 9 sections:
Word Knowledge (WK)
Arithmetic Reasoning (AR)
Mechanical Comprehension (MC)
Automotive and Shop Information (AS)
Electronics Information (EI)
Mathematics Knowledge (MK)
General Science (GS),
Paragraph Comprehension (PC)
Assembling Objects (AO)
The AFQT (which is the combined ASVAB score) required minimum scores for people with a high school diploma as of May 2011 are as follows:
Air Force (AFQT) 50 (GED is 65),
Air National Guard (AFQT) 31 (GED Graduate is 50),
Coast Guard (AFQT) 40 (GED is 50),
Navy (AFQT) 50 (or 65 with GED),
Marines (AFQT) 32 (or 50 with GED),
Army (AFQT) 31. GED holders who earn 15 college credits 100 level or greater are considered equivalent with those holding high school diplomas. This would result in only needing the minimum score to enlist.
How to Find a Tutor for ASVAB Help Near You:
Getting ASVAB help is easy!  You can check out our tutor listings and finding a few that specialize in the areas that you need help.  Then send them a message with any questions.  We make it easy and fast to get help.  You also are not billed for the 1st hour if there's not a fit.  But with our tools, reviews and confidential conversations with tutors before starting, we're sure you can find a private ASVAB tutor that will help you reach your goals beginning now! So start your search today and find a tutor that can help you succeed.