Mathnasium vs Kumon Comparison: Which Tutoring Program is Better?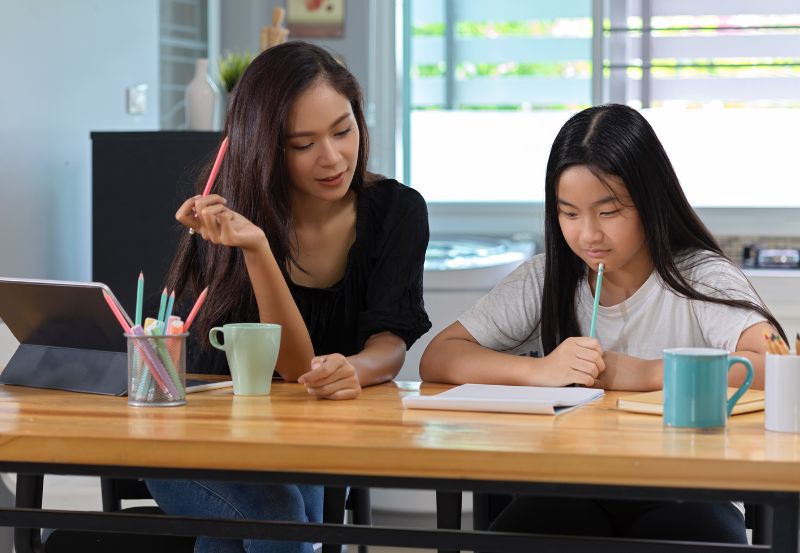 With so many online math tutor services, finding a system that works for you and your child can be a difficult and time-consuming task. You want to find someone who teaches well and connects with your child – without hurting your wallet. Mathnasium and Kumon are two of the most popular math tutoring services. This article will cover the key similarities and differences between the two – and explore other online tutoring options – so you can ultimately make the best choice for your family.
Mathnasium vs. Kumon: Which Is Best?
We'll compare and contrast the tutoring services offered by Mathnasium – a platform that focuses solely on improving math skills – and Kumon, which covers many different subjects. We will also discuss the benefits of online tutoring and how to find the best online tutor for your unique circumstances.
Quick Facts (Mathnasium vs. Kumon)
Mathnasium
Kumon
Product Quality
• Focuses on encouraging students and making math fun
• Repetition-focused, very structured and rigorous
Academic Results
• 94% of parents reported improvement in their child's academics
• 90% of students saw improvement in school grades
• Students' skills were over a year ahead of the national average
• Students score an average of 5.27 points higher on Math SATs
Delivery
In-person and online
In-person and online
Pricing
$200-$300 per month
$100-$200 per month
Support
• Personalized tutoring plan focused on helping with math skills through homework and tests
• Focused on worksheets and mastery of concepts – less one-on-one support
Why You Should Consider Online Tutoring
Just as e-learning has transformed the way students absorb information and complete their coursework, online tutoring provides the additional skill-building that students require more cost-effectively and conveniently than traditional tutoring programs. For young people struggling in the classroom or who need an extra challenge, online tutoring is an ideal option for those who are uncomfortable in group settings or want a more private, one-on-one tutoring session.
Online tutoring is also easier for parents as their children can work with their tutor from the comfort and convenience of home. Therefore, parents don't have to worry about the logistics of drop-offs and pick-ups as their kids can get professional tutoring help from the next room. Additionally, parents can observe how the tutor works with their child to ensure their son or daughter benefits from the program.
We found that Learner is one of the best online tutoring platforms for students of all ages and levels. Learner custom-matches students with world-class tutors who have the right experience, subject knowledge, and personality to bring out the best in anyone.
Mathnasium Overview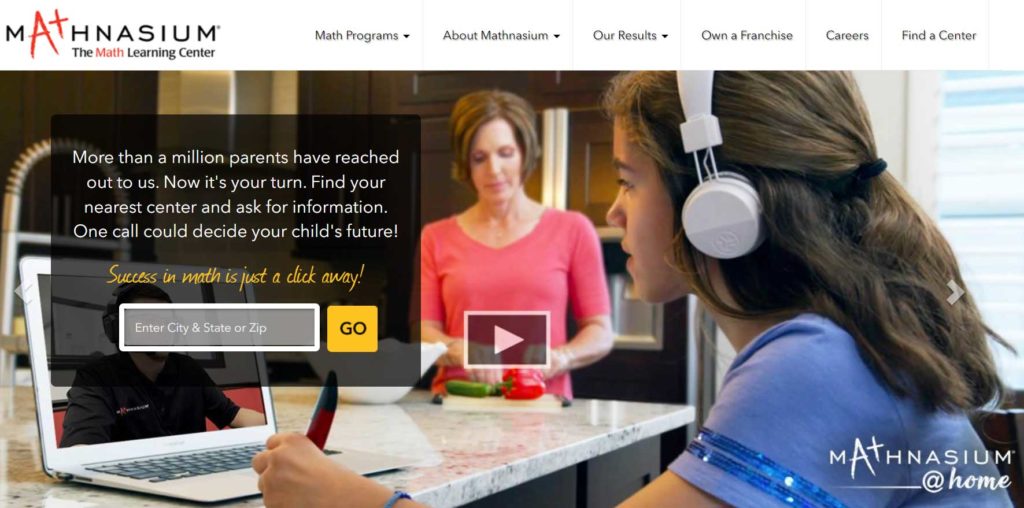 Math isn't always the most straightforward subject for students to understand. As students progress in school, math becomes more complex, and some children may require extra help to understand its challenges. Mathnasium strives to teach math effectively and ensure kids have fun while learning.
What is Mathnasium?
Mathnasium is a math-only learning program aimed at pre-K to high school students. Each student works at their own pace on a personalized curriculum. At Mathnasium learning centers, a typical arrangement is to have one instructor at a table with four to six students. Mathnasium also offers SAT and ACT prep for students who want to improve their math scores as they prepare for college.
Pros:
A hands-on learning environment
Customized learning plan
Self-scheduled tutoring sessions
Recently expanded to include online sessions
Cons:
Math is the only subject taught
Can be expensive
Students may work with multiple tutors
Not one-on-one tutoring
Bottom Line: Mathnasium is a good option if your child struggles with math but doesn't need help in any other subject and doesn't require one-on-one math tutoring sessions.
How Does Mathnasium Work?
When you sign up for Mathnasium, you will take an initial assessment. During the sign-up process, you'll discuss the results and your goals with the center director. Your child will design their binder and receive a personalized learning plan.
When a student completes a series of workbooks and lessons and passes a certain number of mastery checks, they will have enough punches on their mastery card to pick out a prize from the Mathnasium prize cabinet. This method keeps students engaged and allows them to track their progress and see results.
How Much Does Mathnasium Cost?
Rates vary by the location of the Mathnasium center, but typical costs for the math program average between $200 and $300 per month. Students often attend twice weekly to keep up a steady pace of learning. Younger students have hour-long sessions, while sessions for older students are usually 75 minutes long. The number of sessions ultimately depends on which subscription you have.
A six-month membership package provides a balanced approach for skills growth, with up to 12 monthly sessions. The price does not change if you want to add more sessions. A month-to-month membership package provides the same benefits as a six-month membership without long-term commitments.The total cost will depend on each client's specific subscription package and any coupons or special needs that Mathnasium accommodates.
Is Mathnasium Legit?
Yes, Mathnasium is legit. It is one of the top math tutoring programs in the country. Mathnasium offers reliable math tutoring methods and learning programs to assist children struggling with math. Mathnasium is fun, interactive, and uses positive reinforcement to get students excited about learning and keep them engaged in their lessons, so it doesn't feel like another hour of school.
What Are Customers Saying About Mathnasium?

Parents and students have primarily positive things to say about Mathnasium. Parents praised Mathnasium's innovation and flexibility in transitioning to remote learning during the Covid-19 pandemic. Students were consistently engaged with lessons, and instructors were patient, understanding, and helpful.
Students enjoy Mathnasium because the math program allows them to bring in their math homework or test prep materials to receive extra help on their current studies.
Mathnasium is known for increasing self-esteem and confidence amongst students and providing peace of mind for parents, as they know that their child is improving their math skills and getting the assistance they need. According to tutors, students, and parents, Mathnasium's biggest asset is the level of personalization within each center. Even students who say that they hate math feel seen and understood and able to grasp complex math concepts with the help of their tutors. It's a system that works well and produces results.
Kumon Overview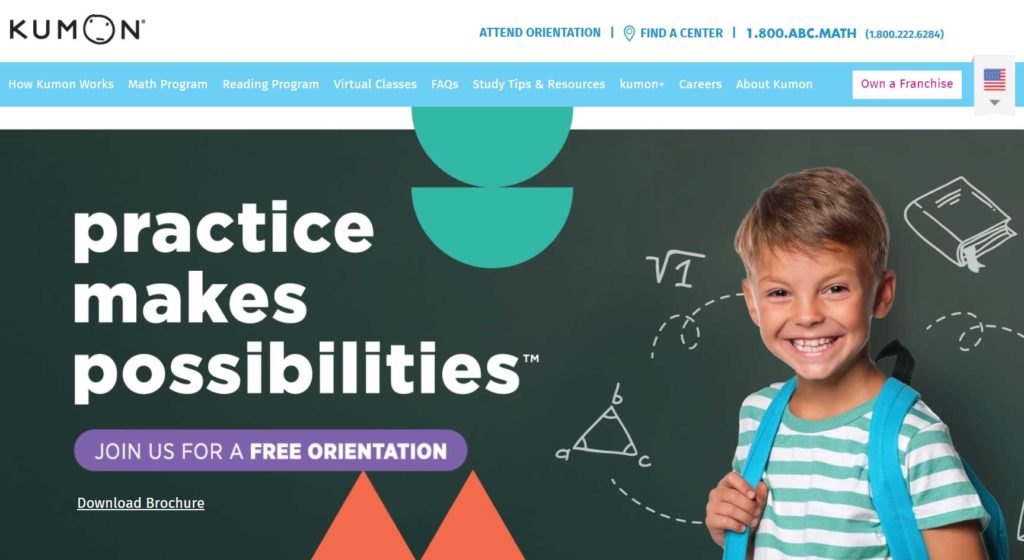 If your child is struggling with math or reading, then Kumon could be the right tutoring program for you. Kumon is a dual math and reading tutoring service that focuses more on individual progress than one-on-one meetings with an instructor.
What is Kumon?
Developed in Japan, Kumon has taught math and reading essentials for over 60 years. Instead of using personalized learning plans, Kumon focuses on the basics and tests a student to the appropriate level. Once the student masters a specific skill set, they can move on to the next level in math or reading.
Pros:
Well-structured curriculum
Tutoring available in math and reading
Less expensive than Mathnasium
Cons:
Not very individualized
Students receive additional homework
Can feel repetitive
Bottom Line: Kumon is great for students who benefit from repetitive learning and can track their progress, but not for those who need one-on-one guided help.
How Does Kumon Work?
Similar to Mathnasium, Kumon is both an in-person learning center and an online tutoring service for students from elementary school to high school struggling with math. However, Kumon also offers tutoring lessons in reading and has very different teaching methods than Mathnasium.
Kumon centers focus on repetition. Lessons with Kumon repeat the basics of math and reading as many times as necessary until the student memorizes and understands the concept. After taking an assessment, the student will be assigned to a slightly lower class than their test result indicates. This ensures that they master the basics of Kumon's curriculum.
At Kumon, students complete worksheets dedicated to the current lesson they are trying to master. They don't move on to a different topic until they have mastered the present concept. Students don't bring in their homework from school. In fact, Kumon assigns about 30 minutes of additional homework after each session.
Although Kumon is a more independent learning program, Kumon centers have tutors, who are often high school or college students. However, instead of giving one-on-one advice and mentoring a small group of students, these tutors are in charge of numerous children working on the same subject matter. They are available to answer questions if necessary but don't offer specific tutoring services.
How Much Does Kumon Cost?
Each Kumon center is independently owned and operated, so costs will vary by location. Generally, expect to pay $95 – $125 per month per subject, plus a one-time $30 – $50 registration fee. High school students and more advanced subjects may incur higher costs, but the sessions are the same length.
Students attend twice a week and have about 30 minutes of extra homework every week, included in the cost. The main variable in cost for Kumon students is whether they are enrolled in tutoring for math, reading, or both.
Is Kumon Legit?
Yes, Kumon is legit. This tutoring program offers repetitive and independent learning methods for students struggling with math and reading. It is most suitable for students who would not benefit from one-on-one tutoring sessions. Kumon requires dedication, tenaciousness, and hard work from students who want to improve their reading or math skills in a disciplined environment that ensures they stay focused.
What Are Customers Saying About Kumon?
Kumon has received mixed reviews from both parents and students. Some children and parents criticized Kumon for the program's lack of personal support and emphasis on extra work. However, other customers praised Kumon's rigid structure as they feel that repeating a formula hundreds of times produces results so a student will never forget it.
One of Kumon's main teaching techniques is to put students into a lower bracket than their assessment results indicate that they need. This system aims to ensure that every student learns every concept. However, students and parents complain that this leads kids to repeat topics they already understand or redo work from several grades below their current level.
Kumon may not be as fun and engaging as Mathnasium, but the results seem similar as they help students learn and retain reading and math concepts. While Kumon may appear more mundane and boring, its program gets the job done at the end of the day.
Mathnasium vs. Kumon: Similarities
Both Mathnasium and Kumon share the same goal: to help academically-struggling students to achieve better results and solidify their understanding. Both programs teach math, and both have relatively good results. They have different teaching methods but a similar set-up as they offer in-person and online lessons in group formats.
Mathnasium vs. Kumon: Differences
The main difference between Mathnasium and Kumon is their teaching methods. While Mathnasium allows the student to bring in homework and have input on what they're working on, Kumon has a rigid curriculum focused on memorization and repetition that doesn't leave room for specific input from the student.
Kumon is generally less expensive than Mathnasium and offers learning support in both reading and mathematics. However, the students at Mathnasium receive more individualized attention and small group instruction. Tutors at Kumon act more as group facilitators.
Tutors undergo extensive training to work at Mathnasium and have a minimum required test score. While Mathnasium hires some high school students as tutors, anyone working with middle schoolers or above will have a college degree or be a current college student. Kumon does not have such an extensive hiring process. Essentially anyone could become a Kumon tutor since they serve as moderators rather than teachers.
Mathnasium vs. Kumon: Which Is Better?
Between Mathnasium and Kumon, the decision on which service is better largely depends on your child's needs and what you can afford. Every child learns differently; some need a more rigorous, repetitive curriculum to master math or reading concepts. However, others learn better with the possibility of rewards and visible progress.
If your child needs help with both math and reading, Kumon is the better option of the two. Kumon is also slightly less expensive than Mathnasium and has a more flexible schedule.
For a more relaxed approach to learning math, Mathnasium is the better choice. Your child will have a more personal relationship with the tutors at the center. While they might learn math by rote memorization at Kumon, Mathnasium helps them take control of their knowledge and have a stronger foundation of math basics.
If your child is struggling, you will need to choose which learning method and program works better for them. The answer to which tutoring center is better is up to each individual.
However, although Mathnasium and Kumon have their strengths, if your child needs extra help in math, we feel that Learner is the best online tutoring platform.
Why We Recommend Learner Instead
Learner is an online tutoring platform that started by providing students of all levels with the best online math tutors. Learner has expanded to many other subjects, including ELA and test prep. Learner students can expect just as good results – if not better– than Mathnasium and Kumon students, but with entirely personalized, one-on-one virtual tutoring from the comfort of home. The benefits of Mathnasium are group tutoring, flexible lessons, and a rewards system. Kumon uses memorization and repetition to teach math and reading.
Learner goes beyond these approaches by matching students of all levels with world-class educators with relevant education, background, and professional experience. Unlike Mathnasium and Kumon, Learner only hires experienced private tutors who have completed at least a bachelor's degree. Rather than seeing a different tutor each time, your child will see their Learner tutor for every session, so they'll really get to know each other.
When you sign up for Learner, you'll complete a one-minute assessment to describe your child's tutoring needs, goals, and learning style. Learner's academic advisor will reach out for a short follow-up phone call and schedule your first free session within the next 72 hours. All Learner sessions take place online, using Learner's virtual learning environment, complete with collaborative tools and session recordings. Learner tutors create personalized lesson plans that are updated each week and progress shared after each session. Learner guarantees you will see progress in as little as two weeks for better math grades.
Instead of traveling to a Mathnasium or Kumon tutoring center to meet with tutors in a group or classroom, Learner allows you to learn at your own pace from the comfort of your home. This provides a welcome alternative to the crowded and often distracting math class environment.
Learner's custom-matched math tutors can assist students with whatever problem they need to solve, whether they need help with homework, exam preparation, or mastering challenging concepts. The tutors are experts in their fields, so no matter your child's level, Learner will find someone to help you.
Beyond just getting better grades, working with a Learner tutor helps students build a solid foundation so they can continue making progress inside and outside the classroom.
Frequently Asked Questions
Still unsure about Mathnasium, Kumon, Learner, or online tutoring in general? Check out these frequently asked questions about online tutoring to better understand which tutoring service is right for you.
How Much Does Tutoring Cost?
The cost of tutoring depends on the tutor's qualifications, experience, and the type of tutoring offered. For private tutoring from a student or teaching assistant, you might pay around $25 per hour. You can expect to pay $56 per hour or more for better-educated tutors such as professors or teachers. Sessions at tutoring centers start at around $45 per hour. Tutors on online platforms charge anywhere from $10 to $100 per hour.
How Much Should I Pay My Tutor?
Deciding how much to spend on your child's tutor depends on your family's academic priorities and financial situation. It's important to have a budget and be realistic about your options and your child's needs. Ultimately, the amount you want to spend on a tutor is up to you.
Is a Tutor Worth it for Your Child?
If you notice your student struggling with a subject, it may be worth looking into different programs and tutoring services. If your child wants extra help with schoolwork or test prep, you'll want to determine which program or learning method works best for them. This will make it easier when choosing a tutoring program. Depending on what your child needs and what free or paid services are available to you, getting a tutor is almost certainly worth it in the long run.
How Can I Find a Tutor Online?
Before searching for a tutor online, consider what kind of tutor you are looking for. Once you know what you can afford and what your child needs, you can conduct a search on Private Tutoring at Home for top-rated tutors near you. You can also search for tutors based on grade level; you'll find the right tutor for your child, whether they're in elementary school, middle school, high school, or college.
Is Online Tutoring Better?
Online tutoring offers more flexibility and convenience than traditional tutoring, as parents don't have to worry about bringing their child to a tutoring center at a set time. With online tutoring, children usually receive more personalized attention. While online tutoring can be better and more efficient than traditional tutoring, it truly depends on how your child learns and what they feel most comfortable with.

Enjoy All The Benefits
You don't pay your first hour unless you find it a good fit.
Only pay for the time you need.
No subscriptions or upfront payments.
Find Tutors Near You