Learner.com Online Tutoring Review – Read Before Applying! [2022]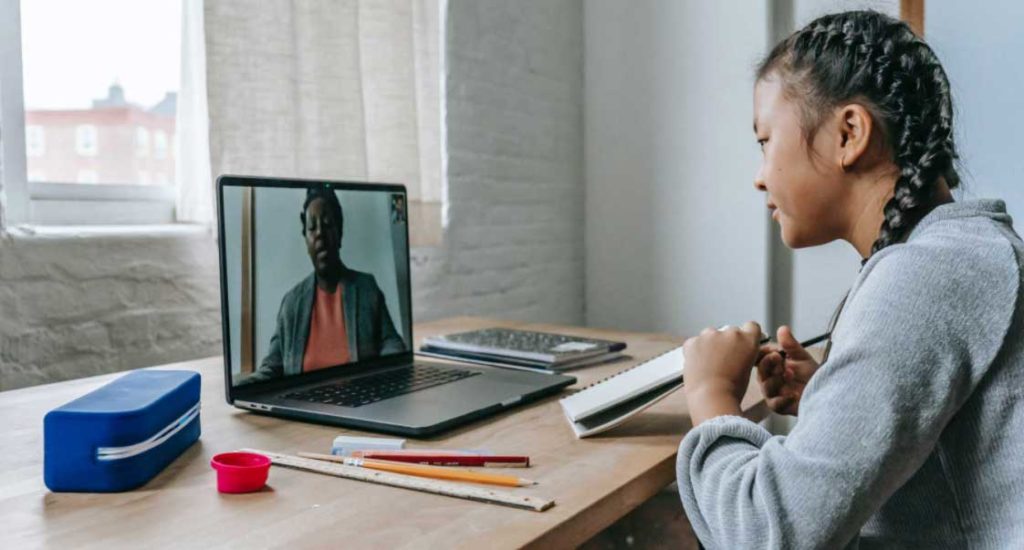 Along with traditional in-person tutoring services, there are several companies that offer online instruction. Learner is an online tutoring service that specializes in providing high school and college students with private math tutoring.
Our Verdict
Learner stands out from other online tutoring services when it comes to the quality of its instructors and its level of customization. The site promises a highly tailored experience that factors in each student's level, learning style, and educational needs. We feel that Learner delivers on this promise, especially in terms of matching each student with the best math tutor and developing personalized lesson plans for each student.
Overall, the experience is similar to what you'd expect if you hired a private tutor in a traditional in-person setup. However, the price is also on par with what a highly experienced private tutor would charge. This means Learner is more expensive than some other online tutoring options, especially those that allow students to choose an instructor from a pool of tutors who set their own rates.
If you're looking for an exceptional online tutoring service for high school or college math courses, Learner is definitely a good option. However, if you (or your child) just need occasional homework help or assistance with non-math subjects, you may want to look for other options.
Features We Love
All tutors have excellent credentials and years of tutoring experience
Students are matched with the best tutor for their goals
Tutors create customized learning plans and provide feedback after each session
Online platform is intuitive and works well on a variety of devices
Customer service team is easy to reach and helpful
Excellent reviews from students and parents
$25 trial session
Satisfaction guarantee
Things We Dislike
High price tag
Onboarding process can take several days
No option to choose your own tutor (though you can request a different one if you don't feel compatible with the matched tutor)
Pricing information isn't available on the website
No live chat function to reach customer service (you must call or use the contact form)
An Overview of Learner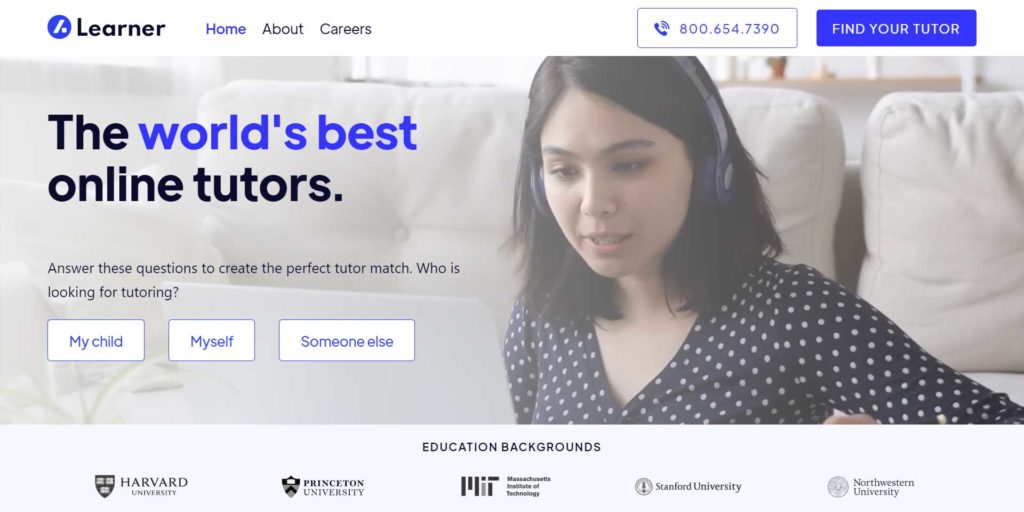 Learner's service is completely online, but it has a lot of similarities to traditional in-person tutoring. Tutors work with students directly to help them understand the material better and improve their academic performance. Most tutoring sessions involve a "lecture" or explanation of the material along with practical demonstrations of problem-solving.
Hiring a Learner Tutor: How It Works
The process of hiring a math tutor through Learner takes a little time, so don't expect to visit the site and then schedule your first session immediately. There are several steps you must go through before you can start your initial tutoring session.
Step 1: The first thing to do is go through Learner's online quiz. You can indicate whether you are looking for a tutor for yourself or your child. Then, you will answer a series of questions about what kind of help you're looking for. Once you've completed the quiz (which is fairly extensive), you can schedule a call with the company's Academic Coach.
Step 2: The phone consultation with the Academic Coach is where you can get into the details of what you're looking for in a math tutor. Learner doesn't just ask questions about the student's academic performance and math grade level. You can discuss the student's learning style, how they interact with teachers and peers, and even hobbies and personal goals. All these questions are designed to get a well-rounded picture of the student that will allow Learner to choose the ideal tutor. You can also discuss how many hours of tutoring you'd like to purchase and get a price quote.
Step 3: Once Learner assigns a tutor, you can schedule the first session. Usually it takes a few days from when you complete the online quiz to when you have the first tutoring session. This trial session is only $25, and it's designed to allow the student to get comfortable with the online platform and determine whether the tutor is a good fit. If you don't feel compatible with the tutor after the first session, you can request to switch to a different instructor at no extra charge.
While it does take a few days to work through Learner's onboarding process, we appreciate that the company takes the time to find the best tutor for each student. You can switch if you need to, but most Learner reviews indicate that the matching process is effective.
Learner's Online Teaching Platform

While it's not an app, Learner's online classroom is compatible with most devices. The platform combines video call features with a virtual whiteboard that students and tutors can use to solve problems together.
Students can also upload math homework problems or test preparation questions to work on together with their tutors. Each session is recorded, so students can rewatch them to review the material.
Available Tutoring Subjects
Learner primarily offers math tutoring for students who are in high school or college. Available subjects range from geometry and trigonometry to algebra and calculus. You can also hire a tutor who will tailor lessons to help the student prepare for college entrance exams like the SAT and ACT. Learner has online tutors for younger students in middle school and elementary school as well.
Learner's Private Tutors
Learner's tutors have excellent credentials and lots of teaching experience. Unlike some online tutoring sites, you don't need to go through pages of tutor profiles to find one you think is a good fit. Learner has a proprietary matching system that they use to pair each student with the right tutor.
Tutors create personalized lesson plans for their students based on learning style and goals. Learner's instructors also provide detailed feedback at the end of each one-on-one tutoring session, so students and parents can monitor progress and know what the next session will focus on.
Math Tutor Reviews From Learner Students

Here are some reviews from Learner students and parents:
"They offered the opportunity to try out a tutor first to see if it was a good fit and then found another tutor who was an even better fit." -Dana
"After two sessions my daughter is already showing massive improvements." -Ann Marie
"My son began tutoring sessions to prepare for the ACT. His score went up 4 points. He then switched to focus on calculus and ended the semester with an A." -Carrie
"If your student is having some difficulty with math or as in our case just wanted to get a strong grasp of the material, this is what I would recommend as a first look." -Adèle
Most of the reviews we looked at were exceptionally positive, and users seemed to agree that Learner's services were worth the premium price.
How Much Does a Math Tutor Cost With Learner?
Prices are not published on the company's website, and the exact rate you pay will depend on the details of the tutoring agreement, such as how many hours you plan to utilize. Private tutoring will cost more than small-group sessions with up to three students. The lowest hourly rate for a Learner tutor starts at $55.
Final Thoughts About Learner Tutoring
There are many options for math tutoring, both in-person and online, and the most important thing is to choose the one that's best for a student's needs. Learner is one of the best online tutoring services, especially for high school and college students who want help with math. The service does accept younger students, but most of the reviews we could find were from teenagers and young adults.
Learner's tutoring services are not cheap, but it looks like the quality of instruction and customer service justify the price. If you are looking for private math instruction from experts and prefer the flexibility of online sessions, Learner is a fantastic choice.

Frequently Asked Questions About Learner
Still not sure whether Learner is the right private tutoring service for you or your child? Read on for answers to the most common questions.
What does a math tutor do?
A math tutor helps students who need more assistance than a traditional textbook and classroom environment provide. Most online math tutors work through video chat systems. Lessons usually involve a combination of explaining math theory, demonstrating examples, and working through sample problems with the student.
How much do math tutors charge?
The cost for a private math tutor varies depending on your location, the tutor's credentials, and the subject matter. Most private math tutors charge between $40 and $80 per hour for one-on-one instruction.
How to become an online math tutor with Learner?
Learner has very strict hiring requirements for online math tutors. To be considered, you must have at least a bachelor's degree in math or a related subject. You also need several years of tutoring experience, including years of tutoring online. Learner only hires 5% of the tutors who apply.
Do math tutors really help?
Yes! There are many studies that show students benefit from getting personalized instruction from an expert. In a private tutoring setting, students can work at their own pace and ask all the questions they want, which is not possible in most classroom environments. Additionally, a tutor can customize their lessons and teaching style to address each student's unique needs.
What is the best math tutoring site?
The best math tutoring site is the one that offers the most benefits for you (or your child). Each site has different pros and cons. However, if you want individualized lesson plans and private instruction from highly qualified math tutors, Learner is a great choice.

Enjoy All The Benefits
You don't pay your first hour unless you find it a good fit.
Only pay for the time you need.
No subscriptions or upfront payments.
Find Tutors Near You