With Education Week right around the corner, we want to recognize education and the important role it plays. We get to dive into such a wide range of topics in school and explore so many different fields. Most students have at least one subject in school that they enjoy learning about more than all the others, and many gravitate towards that subject for the rest of their lives and into their careers.
To celebrate education and the many subjects we learn about, we looked into the numbers and found each state's favorite school subject. Check out the map to see what subject is your state's favorite!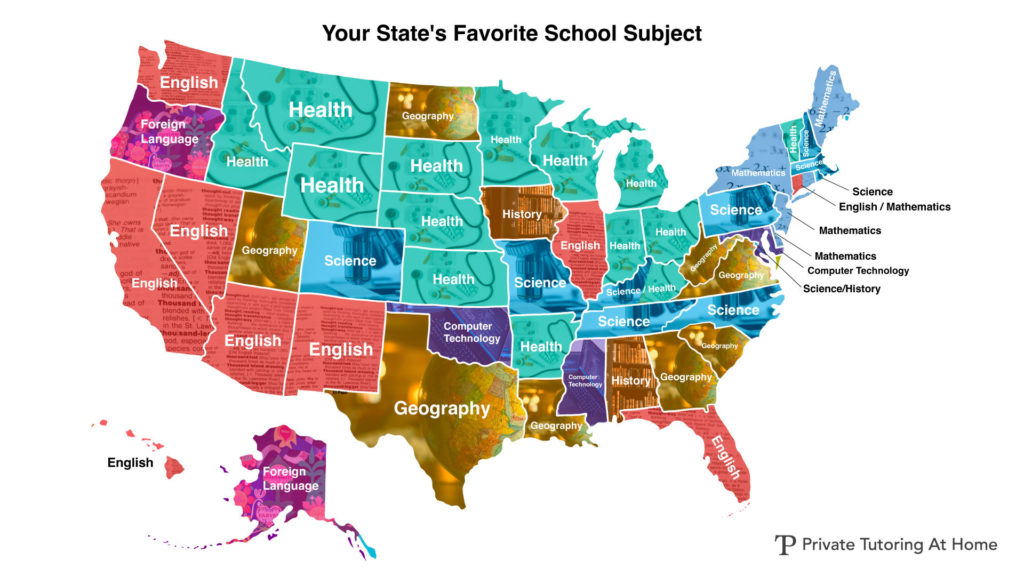 Interesting Findings
Health is the overall most popular subject in the nation being the favorite in 14 states
The southwestern states are all fans of English (California, Nevada, New Mexico, and Arizona)
The northeast loves math and science and has some of the top math and science universities in the world, including Harvard, MIT, Princeton, and Columbia
Three states had ties for their favorite subject

Connecticut tied between english and mathematics
Kentucky was a toss-up between science and health
District of Columbia was torn between History and Science

Foreign language is the least popular subject in the nation, taking only 2 states (Washington and Alaska)
Methodology
We looked at eight common subjects studied in schools throughout the nation and analyzed their Google Trends search volume over the last 12 months to determine each state's favorite.
| | |
| --- | --- |
| State | Favorite Subject |
| Alabama | History |
| Alaska | Foreign Language |
| Arizona | English |
| Arkansas | Health |
| California | English |
| Colorado | Science |
| Connecticut | English/Mathematics |
| Delaware | Mathematics |
| District of Columbia | Science/History |
| Florida | English |
| Georgia | Geography |
| Hawaii | English |
| Idaho | Health |
| Illinois | English |
| Indiana | Health |
| Iowa | History |
| Kansas | Health |
| Kentucky | Science/Health |
| Louisiana | Geography |
| Maine | Mathematics |
| Maryland | Computer Technology |
| Massachusetts | Science |
| Michigan | Health |
| Minnesota | Health |
| Mississippi | Computer Technology |
| Missouri | Science |
| Montana | Health |
| Nebraska | Health |
| Nevada | English |
| New Hampshire | Science |
| New Jersey | Mathematics |
| New Mexico | English |
| New York | Mathematics |
| North Carolina | Science |
| North Dakota | Geography |
| Ohio | Health |
| Oklahoma | Computer Technology |
| Oregon | Foreign Language |
| Pennsylvania | Science |
| Rhode Island | Science |
| South Carolina | Geography |
| South Dakota | Health |
| Tennessee | Science |
| Texas | Geography |
| Utah | Geography |
| Vermont | Health |
| Virginia | Geography |
| Washington | English |
| West Virginia | Geography |
| Wisconsin | Health |
| Wyoming | Health |