Are you or your children struggling with Math problems and exercises? Are you a high school student preparing for the SAT or ACT? Finding a Math tutor is the right answer. Math is usually a difficult subject at school and college, but the support and encouragement of a private Math tutor can help you overcome any learning challenges.
Your tutor will create a sheltered environment to safely ask questions and consolidate your self-confidence. The outcome? Better grades, a more assertive attitude, and fast improvement.
Whether you are dealing with algebra, geometry, calculus, or statistics problems, your tutor will have the answers you are looking for and will help you get on top of your grades. Check out our highly trained professionals. It has never been easier to find a math tutor.
Best Math Tutors Near You:
Why you need a Math Tutor?
It is easy to feel discouraged and lose motivation and interest when a subject is especially hard. Sadly, this is what usually happens to children at school. Before you get to the point of saying you're not a math person or that mathematics is something you can't do, there is no shame in acknowledging that "I need a Math tutor".
If your children are spending way too much time doing their homework without reward then it's time to get some extra help. If they are struggling to apply what they have learned at school, it may be because they haven't understood properly what had been taught in class. It is better to address these issues before they accumulate and become a stressful problem, for example, just before an exam. A one-to-one math tutor is the right solution.
Preparing for a standardized test is another good reason to get a math tutor. You will be getting advice especially designed for you based on your abilities and the gaps in your understanding. This is especially useful for students that are not particularly familiar with the content and structure of the exam. Having regular appointments with your private mathematics tutor will provide you with valuable guidance and with a useful studying structure that will have a positive influence on your scores.
When it comes to mathematics, new concepts are usually built on previously learned skills. If students are struggling with the basics, getting a math tutor near you is your best bet since they can offer additional practice to consolidate understanding of the rudiments that are necessary to construct more complex knowledge.
Finally, if you have a busy schedule or you're a mom juggling with work, family life and helping your children, having a private math tutor gives you the flexibility to set appointments at times that are convenient to you and best suited to your lifestyle.
How a Math Tutor Can Help
Math is one of those topics that many students struggle with. While some students breeze through these courses, others find the concepts confusing and the problems unsolvable. If you are having a hard time in your Math class, hiring an expert Math tutor is a great solution.
You can find private Math tutors who can help you no matter what level or topics are challenging you. There are tutors who can help with Elementary Math, middle school Math, and various high school and college Math courses. These are just some of the topics that tutors can assist with:
Number sense and numeration
Measurement
Equations and formulas
Data representation and analysis
Basic two-dimensional Geometry
Proportions
Analytic Geometry
Exponents and radicals
Angles and measurement tools (e.g. compass, protractor)
Congruence and similarity
Three-dimensional Geometry
Patterns, relations, and functions
Slopes and Trigonometry
High School Math courses (standard or honors level)
Pre-Calculus
Calculus
AP Calculus
College Math:
By choosing to take action early and look for the best Math tutors for your grade, you can make sure that you stay on top of or ahead of the curve. A great Math tutor can help ensure their students master the fundamentals so that they have the necessary foundation for the subjects to come.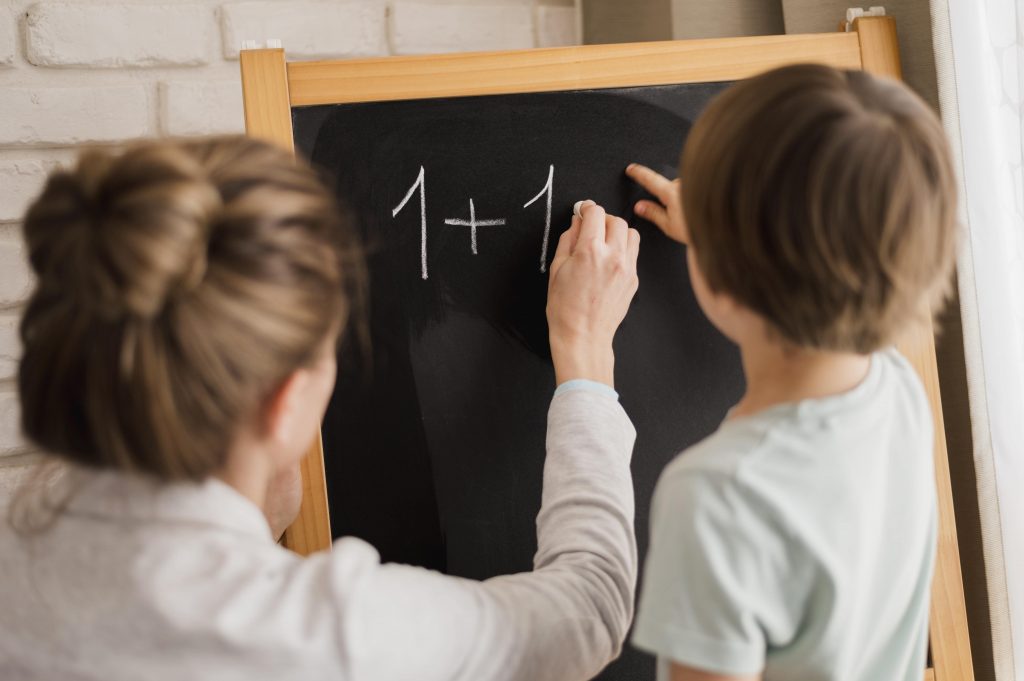 How Does Math Tutoring Work?
The goal of private tutoring is to help a student overcome their unique struggles with the material, so no two sessions will look exactly the same. Most Math tutors will take the time to understand which topics the student is having trouble with and then spend time explaining those subjects. Sessions may include lectures, problem-solving demonstrations, and homework help.
A good Math tutor should customize their teaching style and the level of the material to the student's grade level. Students can learn at their own pace to catch up with their peers. Additionally, there are Math tutors who specialize in test prep for college entrance exams. They can help students prepare to get their best score in the Math section of the ACT, PSAT, or SAT.
Benefits of Working With a Math Tutor
Working with a Math tutor can be beneficial for students of all ages and levels. Here are some of the advantages you can expect when you invest in private tutoring.
Personalized instruction
Every student has their own learning style, and a private Mathematics tutor offers personalized instruction that can adapt to that learning style. This allows students to work at their own pace, grasp new concepts, and apply what they've learned.
More confidence
Working with a tutor can build your confidence for Math class and other academic pursuits. You'll get the satisfaction of seeing your hard work result in better Math scores. A good Math tutor can help you build a positive attitude toward challenging subjects and give you the support you need for academic success.
In a positive and encouraging learning environment, students can see their Math homework mistakes as opportunities instead of failures. A tutor can go through each problem, identify the errors, and talk the student through the correct solution.
One-on-one assistance
Many students need to ask questions and learn by trial and error when it comes to Math. In most traditional classrooms, there isn't the time or structure in place to support this type of learning. With a tutor, however, students can ask their questions, work through problems, and get personalized feedback. It's a safe environment that allows students to learn free of peer pressure, embarrassment, and competition.
Reviews
Amazing Math Tutoring
Summary
Greta is a friendly and knowledgeable tutor. She has helped my son improve his grades at school. He was no interested and struggling to do his homework. Greta was able to give him the attention he needed and now he can face his lessons with more confidence which means we can spend more time together as a family. I am glad I found her when I was looking for math tutoring near me.
Mike is Math 🙂
Summary
Mike is the right fit for me. His lessons are clear and interesting and he has helped me overcome my fear and insecurities when it came to mathematics. We have worked on the challenges I was facing preparing for my last exam and I have seen a massive improvement in my results. I'm satisfied with our work together. When I was searching for Mathematics tutors near me, I wanted to have ongoing support and that is exactly what I got.
How Much Does a Math Tutor Cost?
Not all tutors charge the same amount, although most base their rates on hourly sessions. You can find tutors who charge as little as $15 per hour and as much as $150 per hour or even more. The cost usually depends on the tutoring subject and the tutor's experience and credentials.
You'll probably pay less for an elementary Math tutor than for a math teacher who specializes in college Statistics. A tutor who is currently an undergraduate student will likely charge less than an expert with a bachelor's degree and several years of tutoring experience. On average, the hourly cost of private Math tutoring is around $60.
How Do I Choose a Math Tutor?
When you are deciding which Math tutor to hire, there are several factors to consider: rate, education, experience, and specialization. If you use an online search to find local or online tutors, it should be fairly easy to check how much they charge to make sure it's in your budget.
Choose a Math tutor with the proper education and background. It's also important to find someone who has lots of tutoring experience. Look for reviews from former students to find an instructor who has a good reputation and an effective teaching style. Remember to make sure your prospective Math tutor has experience with test prep if you are studying for college entrance exams.
How to Find a Math Tutor Near You
Finding a Math tutor is easy. Start with an online search. You may decide to limit your possibilities to tutors who live in your area and can meet in person. Or you might like the idea of an online tutoring service better.
Once you have a list of possible Math tutors, narrow it down based on the instructors' experience and expertise. For example, you wouldn't necessarily want a tutor who focuses on middle school Math if you need help with college Calculus. If you are learning Trigonometry or Algebra in preparation for a science degree program, you might want to consider a tutor with experience helping college students in Physics or Engineering programs.
Next, look at reviews from prior tutoring students. You want to choose an instructor with a positive personality and an effective teaching style. Finally, make your final decision by sending a message to the tutors on your list. You can talk with them directly to make sure they have the expertise you need and a compatible teaching style.
Common Math Skills & Topics to Know
There are numerous Math skills that students learn as their education progresses. To succeed in Math, students need excellent problem-solving skills and the ability to understand what a question is asking, especially if it's a word problem.
Generally, elementary school students focus on Math basics, such as addition, subtraction, multiplication, and division. In middle school, fractions, decimals, and two-dimensional Geometry concepts are introduced. Students also learn about functions, expressions, and single-variable equations in Pre-Algebra.
Most high school students take classes like Algebra 1, Algebra 2, Geometry, Trigonometry, and Pre-Calculus. Sometimes the curriculum also covers Probability and Statistics. Many science classes, especially Physics, also require a good understanding of Algebra, Trig, and Calculus.
Math Tutoring Frequently Asked Questions
If you're still not sure whether you need a Math tutor or what to look for when hiring one, read on. These are answers to the most common questions students ask about Math tutoring.
What is Math?
Math is the study of numbers, quantities, and space. Mathematics is its own discipline and also has applications in countless other subjects and industries, from science to social studies. Most students take some form of Math throughout their primary and secondary education years, and most university students take at least a couple of Math classes such as college Algebra or Computational Mathematics.
What does a Math tutor do?
A Math tutor helps students overcome their struggles with mathematical concepts and problem-solving. Most private tutors work one-on-one with their students, although you can also find small-group Math tutoring sessions. Most Math lessons are a combination of theory and application, with lectures on certain topics and examples of problems and their solutions.
Are Math tutors worth it?
For most students, yes. When students struggle with Math, they often feel discouraged when they fall behind or spend many hours trying to finish their homework but don't understand the concepts properly. A Math tutor addresses all these issues by creating a positive and encouraging learning environment that lets students ask questions and get detailed answers explained in a way they understand.
Is online Math tutoring available?
Yes. There are many online services that offer Math tutoring. This can be a great option for students who have nontraditional schedules or who live in remote areas without access to lots of local Math teachers.
How is online tutoring different from in-person tutoring?
Each type of tutoring has pros and cons. Many students thrive in the traditional environment of in-person instruction. Others prefer learning from the comfort of home with an online tutor.
Is Math tutoring tax deductible?
For most students, Math tutoring is considered a nondeductible personal expense. There may be some circumstances where tutoring for a special needs student can be eligible for a tax deduction.

Enjoy All The Benefits
You don't pay your first hour unless you find it a good fit.
Only pay for the time you need.
No subscriptions or upfront payments.
Find Tutors Near You