How to Become a Certified Nutritionist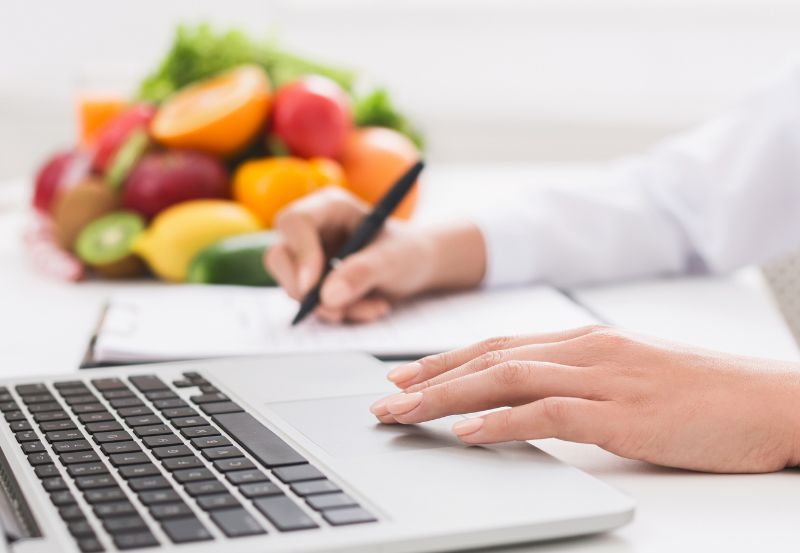 Any wellness industry thought leader will tell you that being a top-performing nutritionist means being appropriately certified and accredited.
Proper licensing and certification broaden the scope of services somebody can provide. Namely, these factors allow practitioners to conduct laser-focused Medical Nutrition Therapy. This more expert care helps clients and patients manage varying ailments or, more generally, bolster their overall health and wellness – with a focus on how to start eating healthy.
Why Choose "Certified Nutritionist" as a Career?
Most commonly, there are two types of nutritionists:
Someone who received certification(s) from a non-ACEND-accredited program (often online) like the American Fitness Professional Association (AFPA) Nutrition and Wellness Certification.
Registered Dietitians. These specialists have four to eight years of university or college education in ACEND-Accredited dietetics/nutrition programs. They've also completed extensive internships in dietetics.
While the first type of nutritionist has been awarded a kind of certification, they can't be called certified nutritionists, nor can they provide Medical Nutrition Therapy.
The second type of nutritionist can refer to themselves as certified nutritionists (or Registered Dietitian-Nutritionist). They can also provide Medical Nutrition Therapy, opening many doors across the health and wellness industry.
The Steps of Becoming a Certified Nutritionist
We'll break down the process of becoming a certified nutritionist below:
Step One: Education
The first step to becoming a certified nutritionist is attending post-secondary school to earn a degree in an ACEND-accredited program.
You also must obtain a notice from ACEND to verify your program completion. It's the only way someone can take the CDR exam.
Anyone pursuing a career as a Registered Dietitian-Nutritionist or certified nutritionist can potentially enter the profession with a bachelor's degree (although many have their master's).
Note that in 2024, the minimum requirement to take the CDR exam will be a graduate degree.
Those graduating before 2024 can take the CDR exam with a bachelor's in:
Foods and nutrition
Public health nutrition
Clinical nutrition
Dietetics
These courses typically revolve around the following:
Applied food principles
Food service systems
Community nutrition
Nutritional therapy
Evidence-based nutrition
Master's degrees can be in nutrition or from a coordinated degree program (e.g., Master's in public health).
Step Two: Dietetic Internship
After finishing an ACEND-accredited undergraduate or graduate program, the next phase is the internship for clinical experience.
There are traditional Dietetic programs like Dietetic internships (via the dietetic internship centralized application services (DICAS)). There are also coordinated programs for people who want to earn their degrees and do their internships separately. Individualized Supervised Practice Pathway (ISPP) internships are an alternative option.
These internships will require participants to complete at least 1200 hours of clinical work.
Step Three: Pass the CDR Exam
CDR stands for Commission on Dietetic Registration. Passing the commission's exam is the next crucial step after finishing the dietetics internship. Exam participants must be CDR-validated.
The examination's rules are rigid regarding eligibility, and passing is no guarantee for even the most intellectual of minds, as it's as much a test of endurance as it is about knowledge. For two and a half hours, aspiring RDs will need to answer 145 skill-testing questions that are broken down as such:
14% food service systems
21% management of food and nutrition services and programs
25 dietetics principles
40% nutrition care for groups and individuals
Step Four: Receiving a State License
State licensing for Registered Dietitians and certified nutritionists isn't always required, but it often is.
In states requiring RD and nutritionist licensing, would-be practitioners must procure one upon passing the CDR exam before legally working in the field.
Simply refer to the CDR's listing of states requiring added licensure for RDs.
Step Five: Staying Licensed
RDs must complete 75 continuing education credits every five years to maintain their credentials, including one in ethics. Submitting an activity log and learning plan within 120 days of completing the first activity is required.
There's also the need to pay an annual maintenance fee for registration.
Why Being a Certified Nutritionist Is Worth the Hard Work
Earning a bachelor's degree is challenging enough. But we also know that in 2024, a master's degree will be the minimum requirement to provide Medical Nutrition Therapy.
However, practitioners who are passionate about nutrition, wellness, overall health, and helping people improve their quality of life won't be deterred by the hard work required to start their careers. To this point, most Registered Dietitians and certified nutritionists find their work satisfying. Plus, on average, RDs make up to $73,000 per year—a substantial salary for most—with the obvious chance to vastly exceed that amount as their business grows.
The credentials one amasses as an RD or certified nutritionist also open doors to work in numerous settings. An RD can end up working for professional sports teams, at groundbreaking research centers, or helping patients in need at general hospitals—and we're only just scratching the surface.
Final Thoughts
Becoming the best certified nutritionist or Registered Dietitian takes passion, drive, and commitment.
What's more? Even after paid work starts, the learning doesn't stop. Every day is a new lesson, never mind the abundance of other educational opportunities for practicing RDs and nutritionists.
There are numerous marketplaces that makes an online nutritionists an easy career transition for many. They have tools that helps potential clients get matched up with the best nutritionists for their specific needs.

Enjoy All The Benefits
You don't pay your first hour unless you find it a good fit.
Only pay for the time you need.
No subscriptions or upfront payments.
Find Tutors Near You