How To Become A Registered Dietitian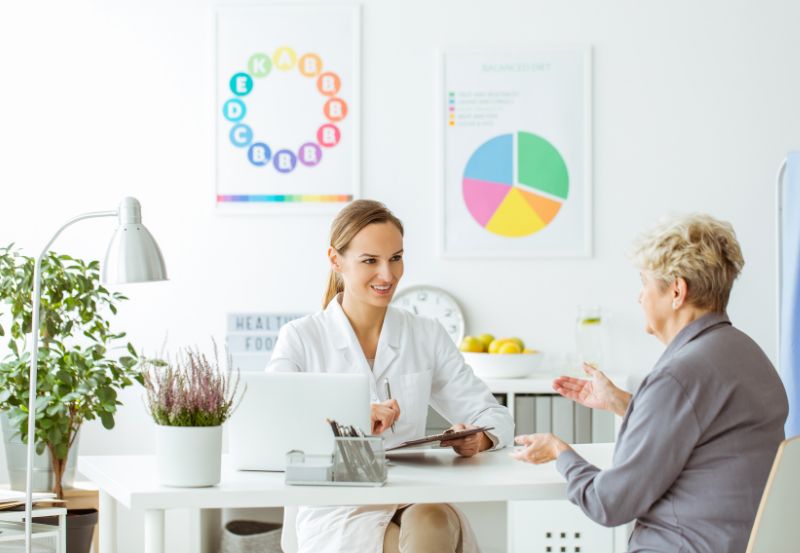 To provide medical nutrition therapy or counseling, you'll need to know how to become a registered dietitian (RD). Even though many states don't penalize you for practicing without the coveted RD credential, being qualified makes everything way more accessible, from finding private clients to getting jobs with high-paying employers. Here's what to know about how the career path typically unfolds.
What Is a Registered Dietitian?
A registered dietitian, also called a registered dietitian nutritionist (RDN), is a professional who specializes in the science of nutrition and is qualified to provide medical nutrition therapy.
Registered dietitians must have a minimum of a bachelor's degree with accredited coursework approved by the Academy of Nutrition and Dietetics. They must also finish an accredited supervised practice program (an approved internship) and pass a national registration exam given by the Commission on Dietetic Registration (CDR).
Also, most states require registered dietitians to meet requirements for continuing education to keep their licenses up to date. The RD qualification is by far the CDR's most popular, with 110,136 registrants as of December 2022. Demand for qualified practitioners is also steady, and the field is expected to grow by 7% from 2021 to 2031, which is about the same as other fields.
Dietitians work with people, families, and communities to encourage healthy eating habits and stop health problems that can be caused by food. They assess individual needs and create personalized meal plans to meet those requirements.
RDs also give advice on nutrition, teach people how to eat healthy, and play key roles in making public health programs. Many conduct research on food and nutrition topics, monitor safety standards in hospitals or other institutions serving food, and manage the nutritional aspects of chronic diseases such as diabetes. Most roles, about 19,240, are in general medical and surgical hospitals.
How to Become a Registered Dietitian
So, what's involved in getting into this exciting career path? We already mentioned the basic requirements, so now let's break the stages down in further detail:
Get Your Degree
To become a registered dietitian, you'll need a bachelor's degree – but not just any degree. You'll have to pick a field of study focused on the science of food and nutrition.
This means you should major in a field such as nutrition science, dietetics, nutritional sciences, or food science and human nutrition. Consider a degree in Public Health Nutrition or Food Service Systems Management. While it may be possible to satisfy the requirement with alternative coursework under your belt, it's wisest to check the accreditation council's guidelines before signing up for any classes.
Also of note is that the RD credential is an evolving standard. If you want to get certified after January 1, 2024, you'll need a graduate degree, such as a master's, practice doctorate, or doctoral degree. You'll also have to complete these studies before you apply for registration.
Complete Your Didactic Program in Dietetics
The registered dietitian didactic program, also called an internship, is a hands-on, post-bachelor's program that gives dietetics practice experience under the supervision of a professional. This program typically requires a minimum of 1,200 hours and can be completed over one year or longer, depending on the specific requirements of your program.
The internship is meant to help students learn more about medical nutrition therapy, food service management, research, community nutrition, and other related topics. The program includes coursework, clinical rotations, seminars, labs, and field experiences. Upon successful completion, graduates are eligible to take the national registration exam.
Pass Your Exam
The RD exam can seem like quite an ordeal. Although the questions are multiple-choice, you'll need to answer at least 125 – including 25 in a pretest section and 100 in the main scored component.
The maximum number of questions on the test is 145. Also, remember that the scoring is scaled in a range of 1-50. You need to score at least a 25 to pass!
One nice thing is that the test-administration software considers each question's difficulty. If you're presented with an exam made up of more challenging questions, you'll have to answer fewer of them correctly, but if you get an easier exam overall, you'll need more right answers to pass.
The exam covers four domains, namely:
The principles of dietetics,
Nutrition care for individuals and groups,
Management of food and nutrition programs and services, and
Food service systems.
While it might seem like it takes a lot to get this far, you'll be glad you went through the effort. Your degree studies and the hands-on experiences from your didactic program are meant to prepare you for the test – and your career ahead – so they're well worth it.
Final Thoughts
Becoming a registered dietitian is no walk in the park, but neither are practices like advanced medical nutrition therapy. By jumping through the hoops properly, you'll improve your ability to help people overcome health challenges, cultivate more rewarding relationships with what they eat, and ultimately get more out of life.
Want to get a better feel for what accredited programs look like or see how real-life RDs have made careers for themselves? Visit Top Nutrition Coaching to learn more about what a true dietitian does.

Enjoy All The Benefits
You don't pay your first hour unless you find it a good fit.
Only pay for the time you need.
No subscriptions or upfront payments.
Find Tutors Near You