How Do I Find A Quiz About What Career Is Right for Me?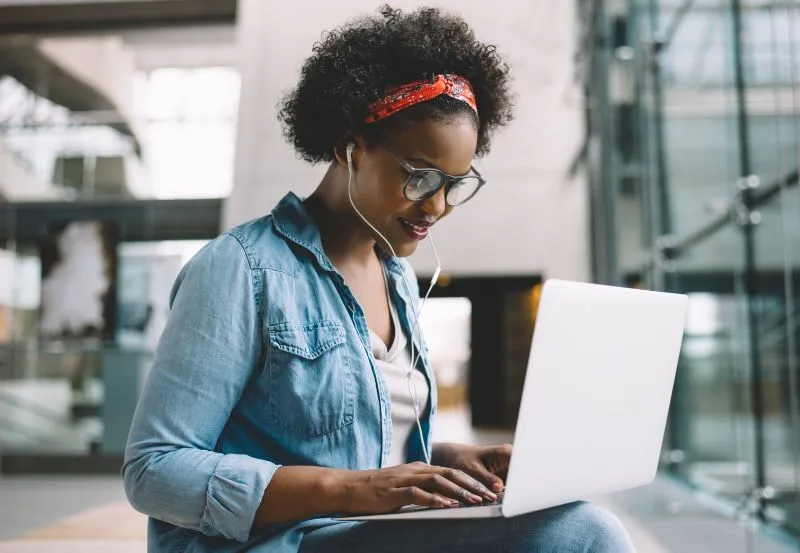 Whether we like it or not, a vast majority of us will spend a significant portion of our lives at work. Experts estimate that the average person spends about 90,000 hours working throughout their lifetime–and that doesn't count side hustles. If you're really going to dedicate that much time to your career, don't you think it's wise to spend a few minutes figuring out which career is best for you?
Fortunately, modern technology and the power of the internet have come together to provide a solution: online career testing.
But, with the explosion of available testing services over the past decade, the most important question on the topic is no longer "Should I take a career test," but instead, "How do I find a quiz about what career is right for me?"
What is a Career Aptitude Test?
Before we dive into our research on the best career testing services and how they work, it's probably a good idea to establish a clear understanding of what a career aptitude test actually is. Some of you may have taken something similar in school, but the modern state of the career testing industry is very different from traditional testing.
Simply put, a career aptitude test asks you a range of questions about your personality traits, skills, work history, career interests, and values to provide realistic insights into specific jobs that might suit you best.
Our Top 8 Career Tests
Below, we'll go into our choices for the top career tests available today, the features they offer, and anything to look out for as you move forward. Afterward, we'll explore extra information on the career assessment industry and give you the insights you need to decide wisely.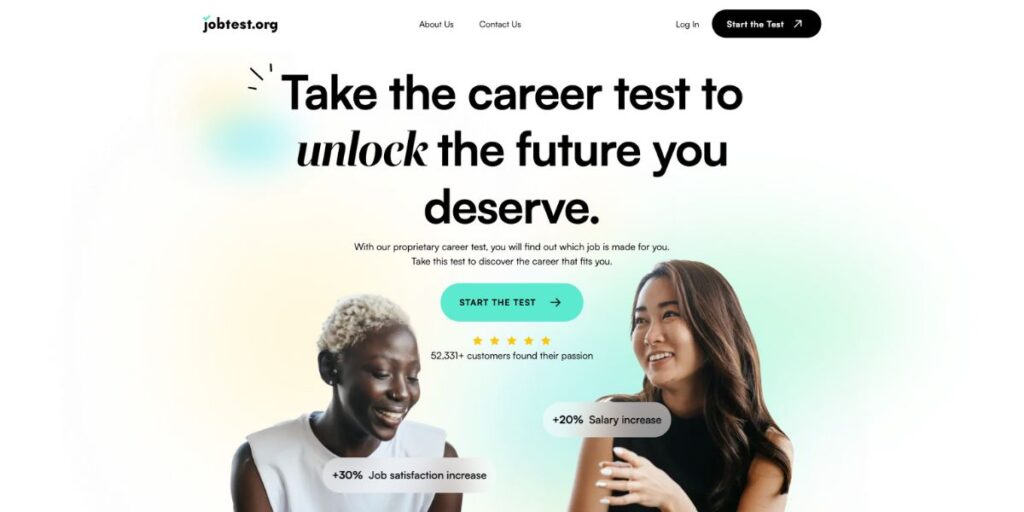 A relative newcomer to the world of online job testing, Jobtest.org has quickly established itself as the industry's new gold standard. While the company offers all of the standard features you should expect from a career testing service, such as a personalized career aptitude test about your interests, skills, and preferences, it also adds a few innovative ideas to the mix.
Specifically, Jobtest.org developed a set of tools based on computer sciences to fuel their assessment with machine learning technology. This addition allows them to determine the optimal job matches for a person based on vast amounts of data and provides a stunning degree of accuracy.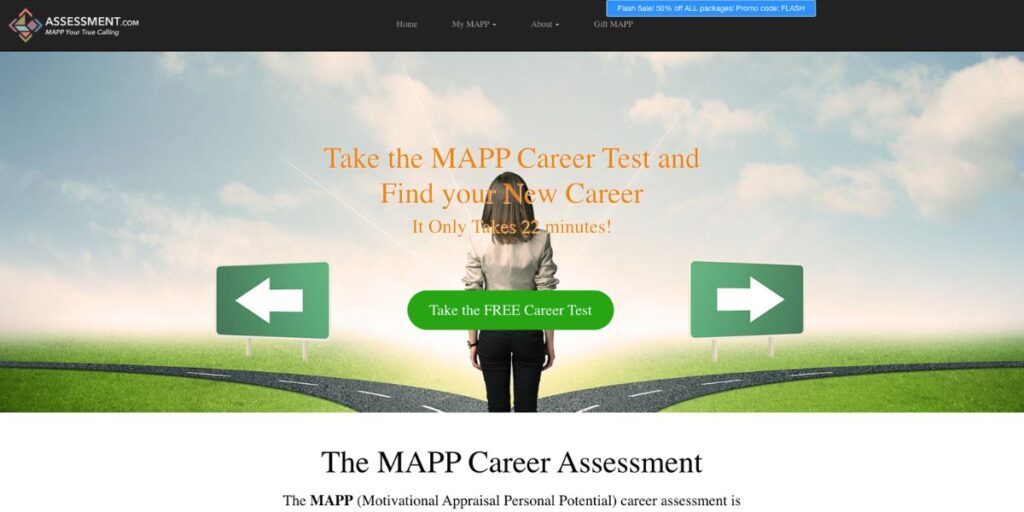 The Motivational Appraisal Personal Potential quiz offered by Assessment.com is one of the leading free career assessments available. Like others of its type, this test provides users with career matches based on their personality type, interests, and preferred work environment.
At 22 minutes long from beginning to end, the MAPP assessment is relatively short. Nonetheless, many of its customers report feeling satisfied with its advice and answers. This satisfaction rate, paired with the free nature of its career test, makes the MAPP our second-highest recommendation.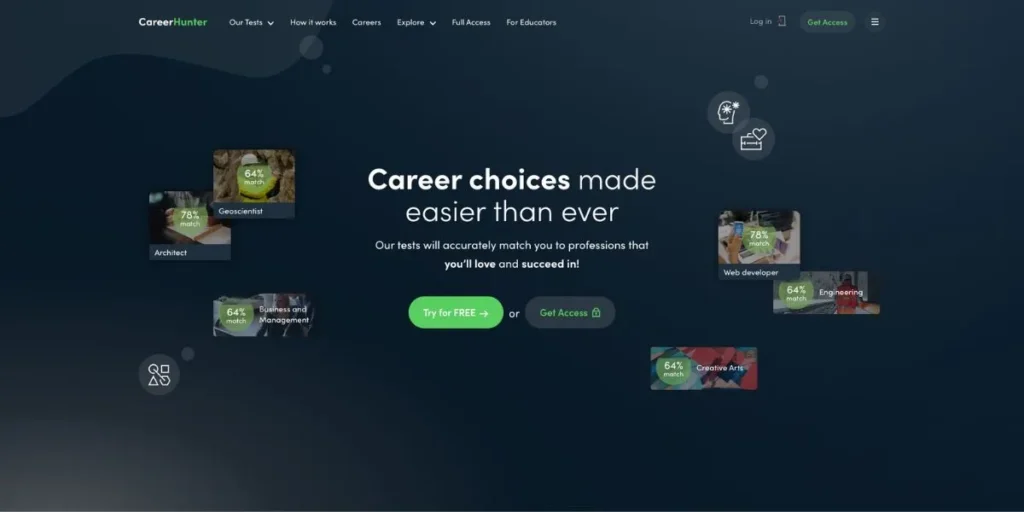 Unlike some other services on this list which offer free career tests, Career Hunter's assessment comes with a more premium cost and is broken down across six separate tests. These tests were developed to identify different aspects of a person's personality and interests, and each involves a substantial writing portion to establish results.
For customers looking to gain a complete picture of their perfect career, it is suggested they opt for the $79.99 package, which allows the user to take each test twice.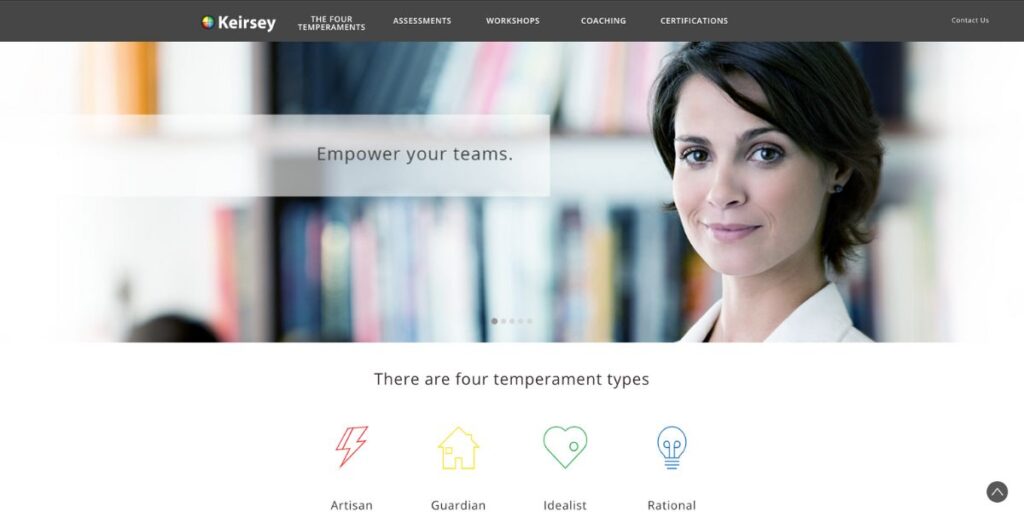 The Keirsey Temperament assessment was created not only to match users with their ideal career but also to explore their personality type and life values. Similar in many ways to the Holland Codes (artistic, investigative, etc.), the Keirsey Temperament test matches users to four different temperament types: artisan, guardian, idealist, and rational. Once established, a user's type is used to identify new careers that might be of interest, as well as provide insights into the type of life they may find most fulfilling.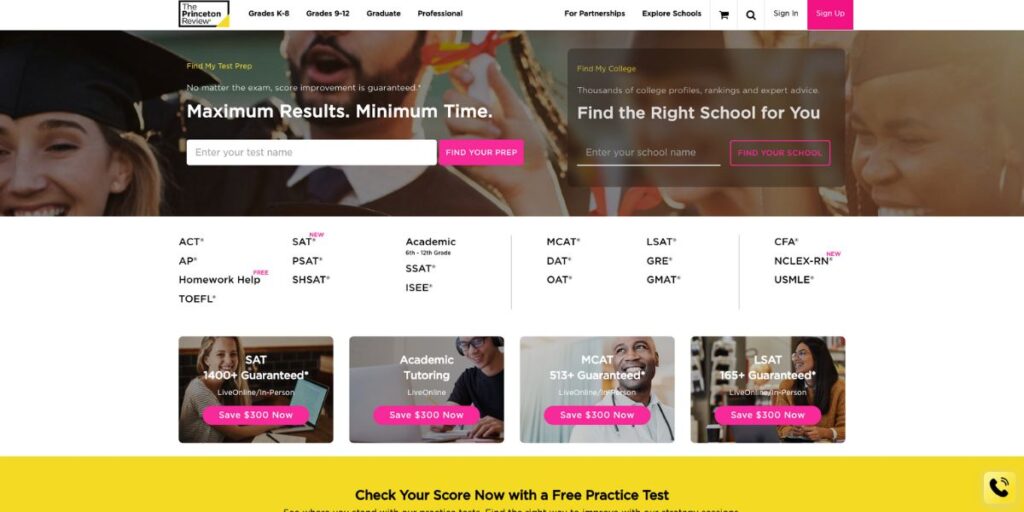 Princeton Review's career test is a short, free quiz composed of 24 questions, each with a this/that answer structure based on the user's preferences. Although limited in scope, this test offers tailored information about your interests and personality while ignoring considerations such as salary. After the quiz is complete, Princeton Review will match you to the job or jobs most likely to provide you with the greatest career satisfaction.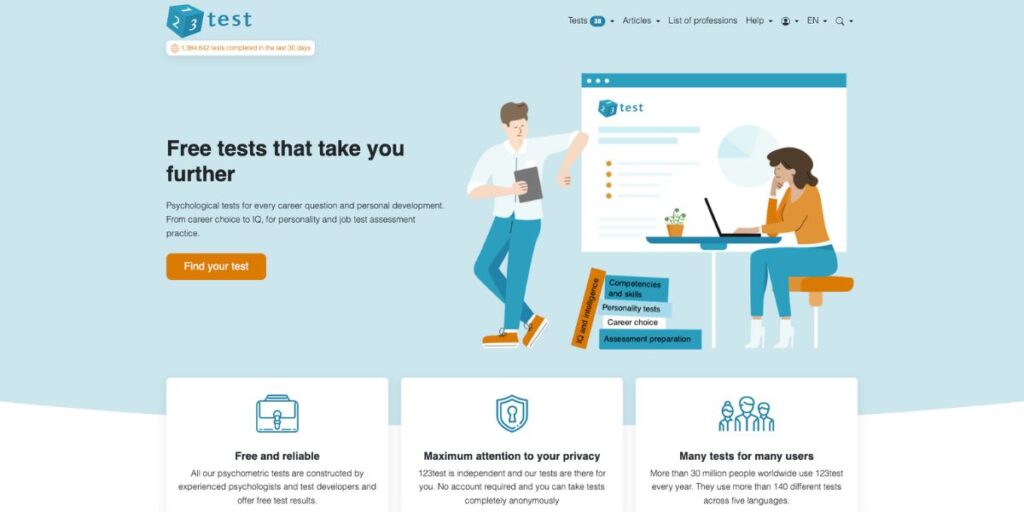 Although 123 Career Test does not offer the same level of thoroughness as some other services, it nonetheless provides impressive value for a free career test. The site itself offers a range of other tests to discover a person's talents, intelligence, career personality, and more, but its career test specifically provides advice on the best career matches based on the individual's answers.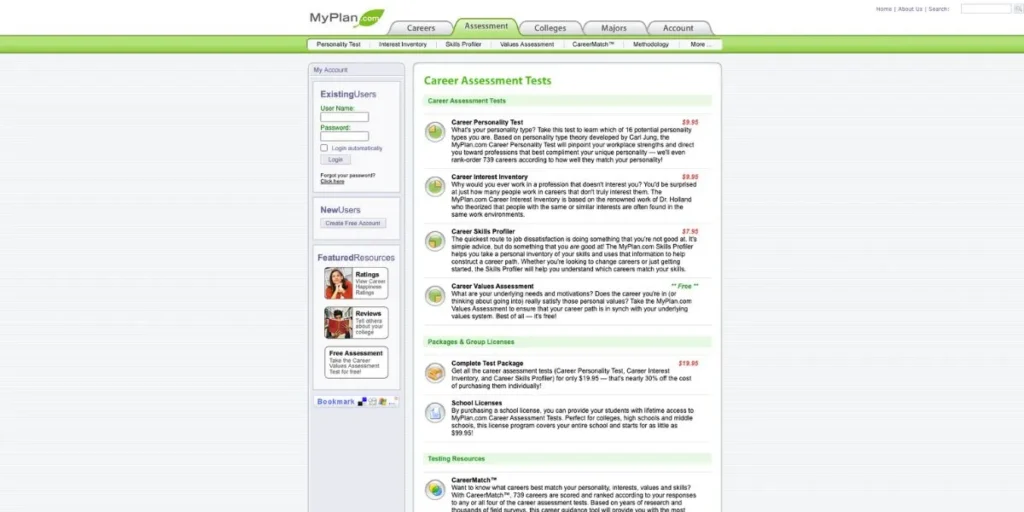 The developers at My Plan developed four different job quizzes, one of which is free, to address a range of career path-related questions. These quizzes include the Career Personality Test, the Career Interest Inventory, the Career Skills Profiler, and the free Career Values Assessment. Each of these provides unique information about different aspects of your perfect career path, but only by taking all four will users gain a complete evaluation of the right career for them.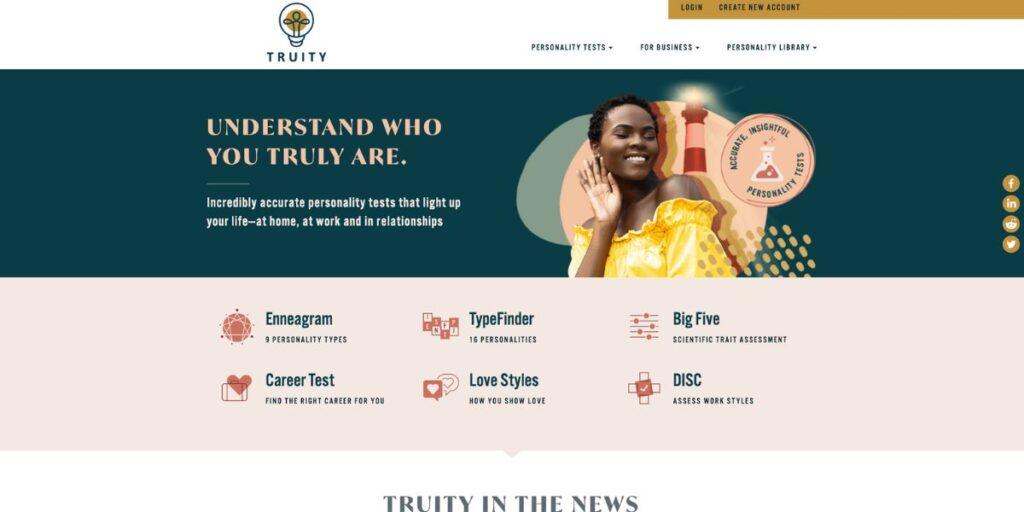 The team of career professionals at Truity offers six different exams intended to assess different personality traits and match you to the careers that might interest you most. These tests are the Enneagram Test, the TypeFinder Test, the Love Style Test, the Big Five, the Career Test, and the DISC Test.
Each of these explores a unique set of factors, such as your education, relationship interests, talents, and preferred work environment. Then, your answers to these questions will be used to discover new potential careers and match you to the best job for your nature.
How Can a Career Test Benefit Me?
For students and established professionals alike, a high-quality career test can provide unparalleled benefits and help match you to the right career for your situation. If you're struggling to decide if you're in the right job, department, or general work environment, this type of analysis will help you:
Discover new careers
Even if you already have a firm grasp of your interests and personality, an objective assessment can often allow you to discover job options you may have previously overlooked.
Optimize education results
For both undergrad and graduate students, knowing the end goal of your education can dramatically increase the value of your schooling. With a match to potential careers now, you can tailor your studies to real-world positions.
Choose confidently
Choosing between different careers can be a daunting task, and even the most confident of us can sometimes second-guess these decisions. With objective, personality-driven results, you can feel more secure in your choices.
Spend energy efficiently
You are a diverse person with diverse interests, and it can feel exhausting trying to divide your attention between them. By narrowing your focus to only the careers and interests that matter most, you can optimize your time and prioritize your goals.
Predict career paths
Even if you've already found the best job match for you, it can be useful to plan ahead about the next steps along that trajectory. By predicting changes ahead of time, a job test can point you in the right direction and prepare you for challenges.
Which Career Test Should I Choose?
At the end of the day, the right test for you will heavily depend on your interests and job goals. Even so, there are some qualities you should always look for in a testing service, things like:
Cost
A good career test is an investment in your future. Nonetheless, it's essential to find a service that you can afford. Check to make sure that your chosen test offers the most value for its price point.
Reliability
Being matched to jobs only helps if the data used is accurate and up-to-date. Look for companies with modern technology and algorithms.
Customization
Your circumstances are unique, and it's in your best interests to find a personalized exam that treats you like the individual you are. One-size-fits-all assessments just aren't good enough.
Our Bottom Line
No matter which service you choose, we strongly believe that taking a few minutes to discover more about yourself and your values is in everyone's best interest. Even so, some testing services stand head and shoulders above others, and questions this important deserve only the best, most accurate results.
If you're ready to stop guessing and start knowing, do yourself a favor and choose a career test from among our favorites. Your future will thank you.

Enjoy All The Benefits
You don't pay your first hour unless you find it a good fit.
Only pay for the time you need.
No subscriptions or upfront payments.
Find Tutors Near You