Best Guitar​ Tutors Near You
Do you want to learn how to play guitar? If your answer is yes, you have come to the right place. We have the best guitar tutors near you ready to get you started learning chords and tunes in a fun and easy way.
Our private guitar tutors work with students of all ages adapting their teaching style to your objectives and interests. Your tutor will be able to give you a comprehensive learning experience that includes the basic chords and chord progression, the history of the guitar, its body parts, and many playing techniques. You will also get valuable tips and advice that can make your learning faster and help you see the results you are hoping for.
Whether you're a complete beginner, an intermediate player, or even an advanced student, you can find a guitar tutor that can meet your requests. Check out our tutors' profiles to see what their specialties are, their backgrounds, as well as feedback from previous students. All this will help you choose the best guitar tutor near you and finding the right fit is the first step on the path to achieving your goals.
What type of music do you want to play on the guitar? You can choose from the many styles including acoustic guitar, electric guitar, bass guitar, classical guitar, blues, jazz, rock, and country. Whatever direction you want to take you can get started with the support and encouragement of our guitar tutoring experts. What are you waiting for?
Best Guitar Tutors Near You:
View Tutor
I started piano lessons at age five and was in my first band at age 13. After picking up guitar, I studied and learned everything I could about music. Since then I've performed extensively as a guitarist, written and co-written many songs and other works, including electronic and orchestral works, recorded and produced music for many bands, and of course taught guitar, ear training, piano, and bass through Wyzant and privately. Currently I'm studying Music Composition and Classical Guitar at ... Read more
Algebra 2, Calculus, Precalculus, Music Theory, Trigonometry, Ear Training, Guitar, Networking (Computer)
Learning how to play guitar
Whether you're young or not, playing the guitar bestows you with a great feeling of pride and self-confidence, and it's as well an outlet to your creativity. Sadly, it's common for beginners to give up after the initial months when self-learning starts to get hard and the results are not as they had expected. This is the problem of following videos and tutorials that have not been designed especially for you. Students find it hard to deal with regular practice, which is fundamental to achieve success while learning how to play the guitar. Your tutor will empower you to master your struggles and transform them into strengths.
Music can be very rewarding, especially at a personal level. As a musician, you spend a lot of time with your instrument to the point of developing a deep relationship with it. Your guitar will transform into your best friend. Melodies and lyrics become a way of bearing your soul to the world. But, you can only do this if you are confident and work hard to gain the skill that is needed to play the guitar well. It's easy, just find a guitar tutor among our highly trained teachers.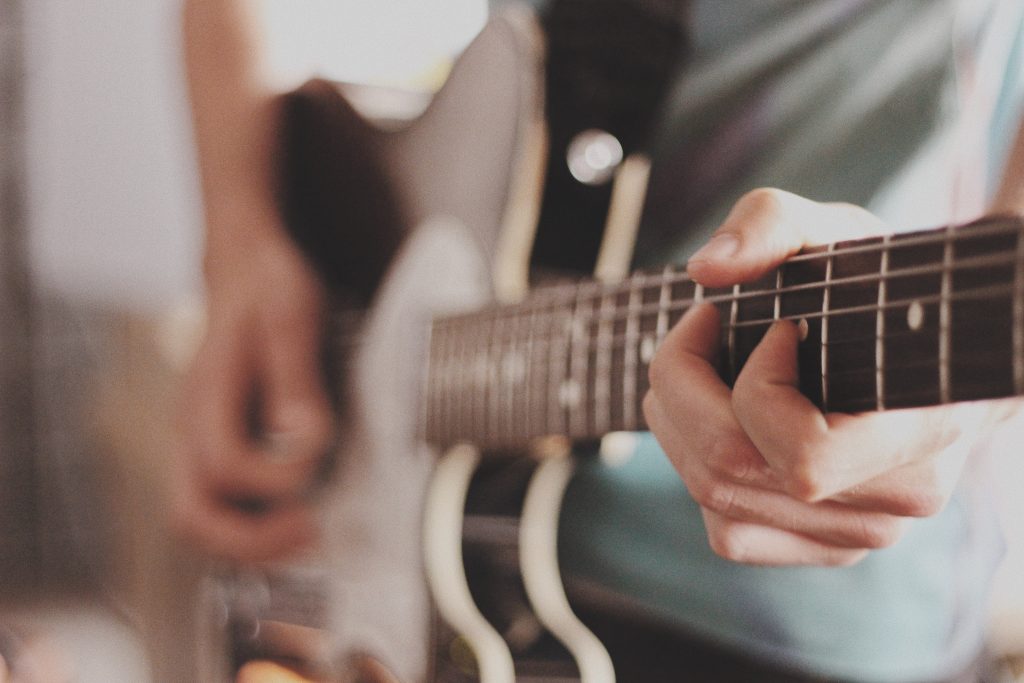 Why is it a good idea to hire a Guitar tutor?
Getting a private guitar tutor will help you achieve your goals much faster than if you were browsing for online guitar tutorials. Teaching yourself tends to get old after a while since no one is there to answer your questions or give you feedback. With a guitar tutor, you will be constantly motivated and moving forward, facing fun and interesting challenges adapted to your level and skills.
If you want tailored lessons that are especially focused on the techniques and styles you want to learn, you need a guitar tutor! You'll also benefit from personalized feedback and your teacher will adapt the content and teaching method to you, either you're an adult or a kid, a beginner, or well-acquainted with playing the guitar.
Guitar tutors can have a significant role when it comes to kids. Playing an instrument may help them unlock their creative side and discover a passion. And, here is where a guitar tutor has a fundamental role, motivating them and teaching them while exploiting their curiosity.
Last but not least, private tutoring is fun! One-to-one lessons are carried out in an entertaining, dynamic, and engaging way that will leave you longing for more. Browse among our guitar tutors, and give it a go today!
Benefits of getting a Guitar tutor
Having a private guitar tutor means that you can learn whenever it's convenient for you, adapting your lessons to your busy timetable, university classes, or family commitments. Your tutor will keep you committed and will guide you step by step, offering feedback and support to improve and continue your learning in a fun and compelling way.
The main benefit of having a one-to-one guitar tutor is that you receive personalized instruction. This is customized to your level, what you want to learn, and how you better get the hang of what you are being taught. What is more, having a guitar tutor means that you can ask all sorts of questions and get relevant answers that will help you learn faster. A private lesson is the best environment to practice complex techniques and experiment with the creative side of you.
Another benefit of guitar tutoring is that it helps to create an exercising routine that will definitely pay off. Every lesson, your tutor will set up a series of challenges for you to improve and move forward towards more complex and exciting techniques. There has never been a better time to start learning the guitar.
Jeff is an amazing guitar tutor
Summary
Jeff is a great musician and a very clear tutor. He helped me get started and I went from being a beginner to finally playing the songs I've always wanted to play! He explained the basics in a very simple way that helped me overcome my frustrations with the guitar. His advice was always on point and he set up challenges that helped me see my improvement from week to week. He is one of the best guitar tutors and I hope I'll continue to improve.
Anne is patient and great tutor
Summary
Anne is super patient and very sweet. When I was looking for lessons I wanted the best guitar tutor, but I was afraid because I get very demotivated when I make mistakes and learning guitar you are meant to make many! But she was always positive and helped me get over every challenge. Her method was comprehensive and covered many things that I had not even thought of. I feel now confident enough to play for my family and friends! Thank you, Anne!

Enjoy All The Benefits
You don't pay your first hour unless you find it a good fit.
Only pay for the time you need.
No subscriptions or upfront payments.
Find Tutors Near You