Best Linguistics Tutors
Found 69 Linguistics Tutors near me:
View Tutor
Nathan B.
Maitland FL. 32751
?About Me? I am a full-time professional Master's level tutor providing customized, comprehensive instruction and support. I specialize in languages, linguistics, study skills, and standardized test tutoring. Whether we are working on Spanish, French, English, or SAT/ACT/GRE, my goal is the same: to help my students succeed. Because I customize lessons to each of my students' needs to help them realize their potential, my students consistently see tangible improvements. An improvement of at l... Read more
American History, Vocabulary, Grammar, French, General Computer, Reading, Spanish, Study Skills, Writing, English, Psychology, SAT Math, Literature, World History, GRE, Proofreading
View Tutor
Mary Jo M.
Tampa FL. 33609
I've made my living using the English language throughout my working life. I've been a newspaper columnist and have published fiction. These days, I am on the part time English faculty at the University of Tampa in Tampa, Florida, where I live, and I tutor ESL adults. Conversation and pronunciation are particular passions of mine because the rules of rhythm and stress can be tricky for non-native speakers. Previously, I tutored international university students in all aspects of English and ... Read more
American History, Grammar, Writing, Geography, English, ESL/ESOL, Government & Politics, Literature, Proofreading, TOEFL, Political Science, Linguistics
View Tutor
Tatevik H.
Sherman Oaks CA. 91403
I am a highly professional and results-driven ESL teacher with experience in the development and delivery of language programs to a wide variety of clients encompassing diverse backgrounds, beginners to advanced, from students and migrants to business professionals. Moreover, I volunteered for LAVC back in 2008-9 at the Learning Center teaching Spanish to non-Spanish speakers and students with disabilities. As a highly compassionate and approachable teaching professional, with over 10 yea... Read more
Vocabulary, Grammar, Reading, Writing, English, ESL/ESOL, Russian, Linguistics
View Tutor
Karen K.
Marietta GA. 30064
I specialize in differentiating instruction to meet the needs of my students. I enjoy watching learners grow in their command of English in all four domains (reading, writing, listening, and speaking). I believe in self-directed learning that is interactive and fun whether your goal is to improve your reading and writing skills or learn the academic language of a content area (math, science, etc.). You may be asked to videotape yourself speaking and self-critique what you perceive as pronunci... Read more
Reading, Writing, ESL/ESOL, Elementary (K-6th), Linguistics
View Tutor
Nicholas F.
Bronx NY. 10471
Hola y Bienvenidos a mi pagina! Hello and welcome to my page! I am a tutor who has his Ph.D in Spanish Linguistics and have been studying the content for the past fifteen years. I am a native Spanish speaker of Puerto Rican descent who has 5+ years of teaching experience at both the high school and university/college level (from Uncommon HS to Princeton University (where I am at now), SUNY Albany and the College of Mount Saint Vincent). I am a Spanish Linguist focusing on language and rese... Read more
Grammar, Spanish, Elementary Math, Linguistics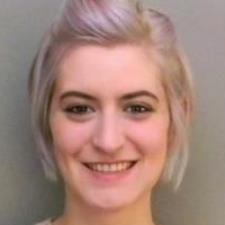 View Tutor
Marissa R.
Fernandina Beach FL. 32034
Marissa, M.A., CCC-SLP is a licensed, certified speech language pathologist specializing in online tutoring and therapy. She is the owner of a private online speech therapy clinic providing evaluations, treatments, consultation, and special education advocacy. Marissa received her Bachelors degree with a double major in Psychology and Speech and Hearing Sciences and a minor in Linguistics from Indiana University in 2010, followed by a Masters degree in Speech Pathology in 2012. During her g... Read more
Vocabulary, Grammar, Reading, Writing, English, ESL/ESOL, Literature, GRE, Proofreading, SAT Reading, SAT Writing, TOEFL, Spelling, ACT Reading, ACT English, Phonics
Coleman N.
Fort Worth TX. 76115
I studied at the University of North Texas for three years and graduated with a B.A. in Spanish and a B.A. in Linguistics (double major). I was able to complete my college education early, in part, by testing out of 12 hours of intro Spanish classes. I am very interested in languages and have studied a few others besides Spanish (though Spanish is the one in which I have the greatest competency). My linguistics background has helped me to study how languages in general work and apply that ... Read more
Grammar, Spanish, English, Linguistics
Robert J.
Duanesburg NY. 12056
I taught foreign language and English courses for twenty-five years before making a career change to online learning support. I am still an avid polyglot and love language learning, and still enjoy sharing my love of language with other people. I live in rural upstate New York about 25 minutes from downtown Albany where I'm the municipal historian for my town. I have taught French, German, Spanish and Welsh both live, online and in hybrid modalities for many years. I have two Master's... Read more
Vocabulary, Grammar, French, German, Reading, Spanish, Linguistics
Clara M.
Fremont CA. 94539
Hi, I'm Clara! I graduated cum laude from UC Santa Cruz with a Bachelor's degree in Linguistics with honors in the major and a degree in Politics. Throughout my education, I found myself fascinated by what I was learning in my linguistics classes, and found that theoretical linguistics came quite naturally to me. I love all aspects of linguistics, from how sounds are produced to how social interactions shape and are shaped by language. However, my strength lies in theoretical linguistics, and... Read more
Algebra 1, Vocabulary, Grammar, German, Phonics, Reading, Writing, English, Proofreading, GED, Spelling, ACT English, Linguistics
View Tutor
Joshua W.
San Diego CA. 92109
I am a PhD student in Linguistics at UC San Diego. I received my B.A. in Linguistics from The Ohio State University. While completing my undergraduate a degree, I worked as a chef in the Ohio Union, which is the student union at OSU. My ultimate goal is to work as a professor, explaining complicated but interesting ideas to students. While working as a chef, one of my main responsibilities was not actually cooking, but training student employees in various culinary techniques (I was not a ... Read more
Grammar, Proofreading, Linguistics

Enjoy All The Benefits
You don't pay your first hour unless you find it a good fit.
Only pay for the time you need.
No subscriptions or upfront payments.
Find Tutors Near You