Best Trenton Tutors
Found 47 Trenton Tutors near me:
View Tutor
Gary M.
Trenton NJ. 08619
Before reading about my background, I would like you to have an idea about my approach during sessions: 1) Discuss goals and expectations of both parents and students. 2) Discuss communication between parents and teachers in hopes of extending lines of communication between myself and the teacher. 3) Observe student problem solving in an attempt to identify areas of difficulty as well as ... Read more
Algebra 1, Algebra 2, Geometry, Prealgebra, Precalculus, Trigonometry, SAT Math, GED, ASVAB, Probability, PSAT, ACT Math, Discrete Math, Logic, Finite Math
View Tutor
Lauri L.
Trenton NJ. 08691
I?m an experienced classroom teacher and tutor and I can help you be more successful in AP Statistics and Algebra and improve your score on the ACT or SAT. I?ve taught AP Stat for 14 years and I?ve graded the AP exam for the College Board since 2010. In addition to AP Statistics I have also taught and tutored Algebra 1, Algebra 2, PreCalculus, Geometry and ACT (Math and Science) and SAT (Math)prep. I'm also an expert in TI calculator tips and shortcuts, specifically TI83/84 and TIinspire. I... Read more
Algebra 1, Algebra 2, Prealgebra, Precalculus, Statistics, SAT Math, Probability, ACT Math, ACT Science
View Tutor
Are you looking to attain a particular level of mastery in French as described in the Common European Framework (CEFR) descriptors or The American Council on the Teaching of Foreign Languages (ACTFL) guidelines? Are you preparing to take the DELF or Advanced Placement exams? Or, are you wanting to maintain your current mastery of French? With 15 years teaching experience, we can work together to achieve your goal. My lessons integrate American and European methodologies and supplemental a... Read more
French, TOEFL
View Tutor
With a master's degree in education and over 15 years experience working in higher education I am interested in seeing students succeed. A professional photographer based in central NJ my work has been published in a variety of literary magazines and websites across the US, and my images have sold internationally. Using professional Nikon gear and specializing in Adobe Lightroom and Adobe Photoshop which I use every day with my photography clients. My goal is to help students with the ... Read more
Adobe Lightroom View Tutor
Nicole S.
Trenton NJ. 08618
I am Nicole. I graduated from The College of New Jersey with a Bachelor's degree in Education. I have over ten years of experience in teaching and tutoring. I am confident that my diverse educational background combined with my instructional abilities, interpersonal skills, and work ethic would be greatly beneficial during tutoring lessons. I am a passionate and dedicated individual who believes that education is the key to success. I am eager to help students gain knowledge which will en... Read more
Vocabulary, Grammar, Reading, Writing, Literature
Sameen K.
Trenton NJ. 08638
I'm Sameen, a 19 year old female with a passion for math, science, and writing. I am pursuing a Biopsychology degree with an interdisciplinary concentration in Cognitive Science at the College of New Jersey and am on a Pre-Med track. I have had experience tutoring students from elementary school to high school at the Kumon Math and Reading Center since 2017 and worked as a private math and english tutor for elementary school students. As a tutor, I prefer one-on-one tutoring and try to enga... Read more
Algebra 1, Algebra 2, Biology, Writing, Psychology, Anatomy, SAT Math, Proofreading, SAT Writing, Physical Science, Urdu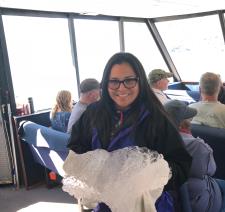 View Tutor
Judith V.
Trenton NJ. 08641
Hola! Como estas? My name is Judith. I am a native Spanish speaker. I spent most of my life in Mexico. I have a Master's Degree in Private Law. I have worked as a Spanish teacher in the USA, and as an ESL teacher in Mexico. Teaching is my passion, because I love to help others to be successful. I'm patient and I will never give up. I can help you to improve your skills in Spanish. You can do better at school or at job. :D... Read more
Spanish, ESL/ESOL
View Tutor
Patrick M.
Trenton MI. 48183
I am a broadcast television professional who has worked at all TV stations in the Detroit market except Channel 7. I am a Digital Media instructor at a local Michigan high school and have a specialty with Adobe products. I love to teach and work well with all ages and people. If you want someone who can take the time and help you with the creative digital products I can help you. I have had many award winning students who have worked in LA and many high end jobs. Please contact me and we can... Read more
Adobe Photoshop, Video Production, Film, Graphic Design
Dean M.
Trenton NJ. 08618
My interest in teaching comes from a strong love of learning and enthusiasm for sharing knowledge about my areas of interest to others. I do not have a formal teaching background, but I have a rich educational history and experience with a variety of subjects at the college level. I have informally helped many of my friends and colleagues to better comprehend courses that I was either taking at the time or had previously taken. I have led both group and private one-on-one sessions on numerous... Read more
Algebra 2, Biology, Psychology
Anita P.
Trenton NJ. 08691
As an experienced ESL teacher, I know how to make students feel comfortable. I will show you that I care about each and every one of you. I will get to know you, and your interests and personalities. You will work hard but you'll have fun, too! I will always vary your activities and keep you challenged. We will use books but I also provide many of my own materials, from websites, workshops, magazines, and pictures. I also give you a lot of time to practice with hands-on materials. For... Read more
Grammar, Reading, ESL/ESOL

Enjoy All The Benefits
You don't pay your first hour unless you find it a good fit.
Only pay for the time you need.
No subscriptions or upfront payments.
Find Tutors Near You